The atelier
Established in 1989 with the purpose of opening a workshop facing the street, in a few years the Carbone shop has become "the place" for classical guitarists, not only in Milan.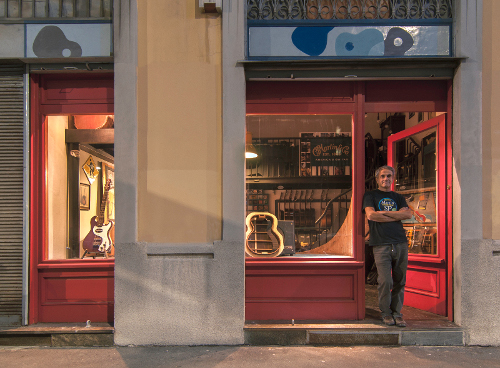 Besides the laboratory for repair works, it's possible to find student guitarsby the best makers (Alhambra, Esteve, Ramirez, Bernabè, etc.). With Alhambra a particular co-operation has been set up, and now they are producing a special series of guitars, designed exclusively for the shop.
Also available are the legendary guitars of the North-American tradition: Martin - in particular models from their Custom Shop - but also Gibson, Taylor, Bourgeois, and so on.
We are also dealing with guitars for Gipsy Jazz music, inspired by the "Selmer-Maccaferri" models, such as the ones of the french luthier Maurice Dupont and the ones produced directly in our workshop.
You can also find several accessories (for examples VGV and Hiscox guitar-cases), and a rich choice of strings, both for classical guitar - D'Addario, Augustine, Hannabach, Savarez, Dogal, Aquila, ...- and steel string guitar - Martin, D'Addario, DR, Savarez Argentine (for Selmer-Maccaferri models), John Pearse, ... -
Special attention has been recently dedicated to finding, restoring and producing copies of eighteenth century guitars, from the wonderful French guitars from Mirecourt, up to the highly sought-afterPanormo.
Besides, if you are looking for a second-hand guitar, contact us: perhaps we can get the one suitable for your need!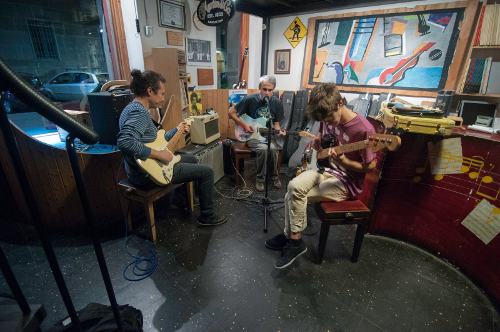 The shop is in Milan, Italy,
Via Carlo Goldoni, 77
(in the east side of the city),
tel/fax (Italy)-0270-100-028;
it's possible to reach it from
Central Station by bus
(no. 60+54 or 61, no. 90-91)
or by trolley (no. 5).